Veterinarians
Dr. Rahel Klapheke

DVM, Practice Owner
Dr. Klapheke is the owner and veterinarian at Parker's Paws Animal Hospital. She practices small animal medicine and surgery. She named the clinic after her 18-year-old German Shepherd dog mix that she lost many years ago. She graduated from the University of Kentucky with an animal sciences degree and obtained her Doctor of Veterinary Medicine degree from Auburn University. She showed Tennessee Walking and Quarter Horses for over 20 years. She enjoys hiking around Percy Warner parks in her spare time. She currently has three rescue dogs named Annie, Heidi, and Rayna, and three rescue cats named Garlic, Onion and Earl. Dr. Klapheke believes in practicing excellent, personal, up-to-date veterinary medicine in the spirit of the human-animal bond.
Dr. Christine Garrett

DVM
Originally from Northeast Alabama, Dr. Garrett, attended Auburn University where she received her undergraduate degree in Zoology with a minor in Animal Science and her Doctorate in Veterinary Medicine. Her professional interests include surgery and imaging (radiology and ultrasound).

Dr. Garrett has two rescue dogs (Lady and Sophie), and a rescue cat (Oakley).
Dr. Justine Siegfried

DVM
Dr. Siegfried was born and raised on Long Island, New York. After receiving her B.S. in Small Animal Science from Delaware Valley University in Doylestown, Pennsylvania, she went on to complete her Doctorate in Veterinary Medicine from Purdue University in 2012. Following graduation from veterinary school, Dr. Siegfried stayed in the Midwest and practiced in the Chicago suburbs for several years before returning home to New York. The warm weather of the South brought Dr. Siegfried to Tennessee, and she is excited to be providing your pets with excellent veterinary care. Her medical interests include radiology, dentistry, and internal medicine.
Dr. Siegfried currently lives with her Toy Poodle, name Hudson. In her spare time, she enjoys traveling, hiking, kayaking, cooking, and spending quality time with her family and friends.
Dr. Erin Manuel

DVM
Dr. Manuel is originally from south central Louisiana. She received both her Bachelor of Animal Science and Doctorate of Veterinary Medicine at the Louisiana State University (Geaux Tigers). Her professional interests are ultrasound, dermatology and preventative care. Dr. Manuel lives in Nashville with her husband and baby girl, Margot, with three rescue cats- Bella, Winston, and Clementine.
Dr. Molly Brinkmann

DVM
Dr. Molly Brinkmann was born and raised in Franklin, TN. She attended the University of Tennessee where she earned a bachelors in Animal Science and Doctorate of Veterinary Medicine. After veterinary school Dr. Brinkmann completed a surgical equine internship at a mixed animal practice in western Colorado where she stayed on as an associate veterinarian before moving back home to middle TN.
Dr. Brinkmann lives in Franklin with her husband, Ryan, their son Owen and their dog Cooper. Dr. Brinkmann loves the complexity of small animal practice and has special interests in soft tissue surgery and internal medicine.
Dr. Erin Hooper

DVM
Dr. Hooper is originally from Northwest Alabama, but has called Nashville home since 2001. After working in health administration for 10 years, Dr. Hooper decided to follow her heart and pursue a career in Veterinary Medicine. She received her Doctorate in Veterinary Medicine from the University of Tennessee in 2015. Following graduation, she practiced in the Mt. Juliet area for 5 years before joining the team at Parker's Paws. Her professional interests include surgery, wound care, and preventative medicine.
Dr. Hooper lives in Old Hickory with her partner, Jade. They have a rescue dog (Booker) and two rescue cats (Moe and Jasper) who provide them with endless joy and entertainment.
Staff
Staci Koger

Office Manager
Staci, our office manager, was born and raised in Nashville, TN. She joined our team in February 2020 after being in the human Dermatology field for 18 years. She's always had a passion for animals and we are fortunate to add her to our family here at Parker's Paws.

Away from the clinic, she spends her free time with her husband and three kids. Two of the three are young and live at home while the oldest is away in the U.S. Marine Corps. Her and her family also enjoy their time with their 3 crazy boxers and 3 cats.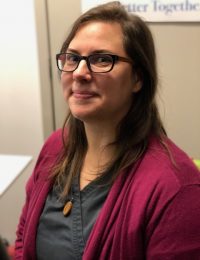 Jayme G
Jayme G has been working in the veterinary field for 20 years now. She moved to Nashville about eight years ago with her little dog and two cats and she really loves this town. Besides an infatuation with ALL felines (she has SIX now), she also enjoys camping, kayaking, geocaching, "haunting" at a local haunted attraction and Ghostbusting with her husband, Philip. She is very grateful to be a part of the Parker's Paws Team!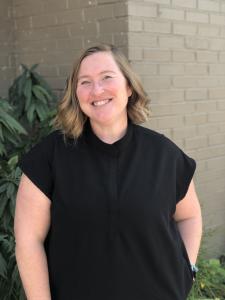 Jamie M
While Jamie has always loved animals, she officially began her veterinary career in 2002 at a mixed animal practice in Northeast Texas. Jamie moved to Nashville in October 2012, where she began working with Dr. Klapheke at another veterinary practice. And while she loves Nashville, Texas will always be her home.

Jamie lives in the Percy Priest Lake area with her husband and 2 daughters. She enjoys spending time in the outdoors and participating in CrossFit.

Jamie has 1 dog named Lulu Chicken Nugget! She also has a horse and several head of cattle at her parent's ranch in Texas.
Jamie D
Jamie began her veterinary career in 2001 after enlisting in the US Army as an animal care specialist working primarily with military working dogs. Following her honorable discharge in 2005, Jamie continued to develop her veterinary technical skills and knowledge base in animal hospitals. She started working with Dr. Klapheke in 2009 and is thrilled to work with her again at Parker's Paws. She has three female Chihuahuas named Pickles, Moo, and Stevie.
Kyle
With a love for animals and biology from his youth, Kyle began working as a veterinary assistant in Smyrna, Tennessee at the age of 16. He graduated from MTSU in 2019 with a degree in biology and a focus in genetics and biotechnology. In his spare time, he enjoys building computers and creating web-based applications. He has two dogs, Cannon and Lettie, with whom he enjoys exercising at the park and playing fetch.
Alexis
Alexis has been in the middle Tennessee area for over 25 years. She has an Animal Science background and has been working as a veterinary nurse for 9 years with extensive experience in emergency medicine. She has a specific interest in canine rehabilitation and critical care.
Her hobbies include spending time outdoors practicing archery, fishing and running around with her 3 dogs Bella the pittie, Joy the hound and Lucy the mastiff.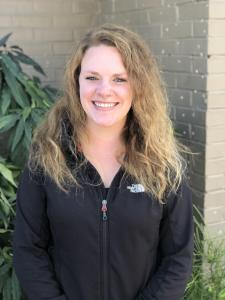 Adriann
Adriann joined the Parker's Paws team in May of 2020 after working nearly 15 years in the service industry. She graduated from Marquette University with degrees in Social Welfare & Justice and Criminology. She moved to Nashville in November of 2017 and has enjoyed living it up with her sassy boxer-mix Fern. Her eclectic background and eagerness to learn has made her a wonderful addition to our team.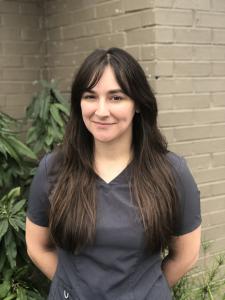 Danica
Danica is originally from Atlanta and has been working in the veterinary field since 2015. She joined Parker's Paws in January 2019. She has three kitties of her own at home. Danica has a degree in Art History, and in her spare time enjoys both making art and visiting museums.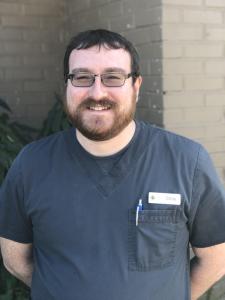 Chris
Chris attended Tennessee Tech University and holds a BS in Conservation Biology. He enjoys sharing his passion for all things related to animals and science with his young son, Glen. Chris also has a special interest in reptiles, amphibians, and fish. He has two dogs- a chihuahua named Johnny, a lab mix named Layla, and two cats- Harry and Richie.
Michelle
Michelle has been with us since August 2017 and she is a graduate of the Vet Tech Institute at Hickey College in St Louis, MO. She has three cats: Bill Purray, Evie Holyfield and Legolas, the three legged cat! We are so fortunate to have her on the Parker's Paws team!
Lauren
Lauren has been a member of the Parker's Paws team since February of 2018.
Lauren is a graduate of Austin Peay State University in Clarksville, TN, where she majored in biology.
She has lived in the Nashville area since she was 6 years old. In her free time, she enjoys spending time with friends and family and visiting nature parks.
Lauren is looking forward to many years with the Parker's Paws Team!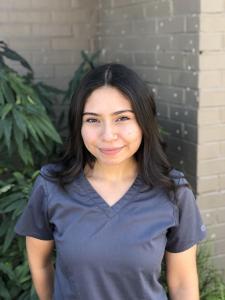 Liz
Liz joined our team in the fall of 2019. As a Nashville native, her and her furry friend, Moose, enjoy being outdoors, hiking, and exploring the hills of Tennessee. Along with her overwhelming passion for animals, she loves to paint and be a craftsman in her spare time.
We are so happy to have Liz as a part of our team!